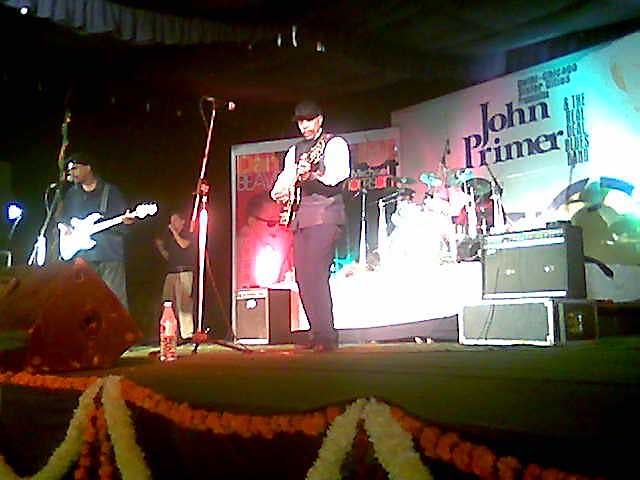 I went ahead alone for the concert. My first ever Jazz concert, John Primer and The Real Deal Blues Band. It was good. Can't say if it was great or not coz I don't listen to a lot of Jazz.
Saw
Harneet
, and Mrs. and Mr.
Deepan
there. The world is small they say and if your areas of interest and subjects and places of hangouts is the same then the world becomes even smaller. I always knew this. Always knew I am gonna bump into Harneet at once such event. And like always I also knew he is never gonna even recognise me. Just the way Munish never did. The ideological differences were too much between me and Harneet so I guess we could never be friends...but I never wanted us to be strangers either. But you always don't have what you want. I would always be thankful to Harneet for introducing me to the blogger's community. Had it not been for him I wouldn't have attended any of the blog meets. Would always remember those long hours of chat...that one fun time when we had a non formal 'mini meet' (as Ravi puts it). Harneet,
Ravi
,
Amit
,
Vivek
and Me. Ironically, when I had joined the DBM the best welcome messages came from these people who now hate me. Deepan was so exited about my introductory mail. Amit and I had some intersting exchange of mails till the time we met in that informal meet. (after which for reasons unknown to me, we never called, or mailed or smsd) And then while the firefighting was going on between me and Harneet, the most malice ful mail was from Amit. He accused me of being responsible for the downfall of the group. He accused me of having creating nothing else but trouble for the group ever since I have joined.
Anyway I don't blame anyone...I know I am jinxed. I keep telling it to everyone but no body believes me.
The closest you come the farthest you would be repelled.